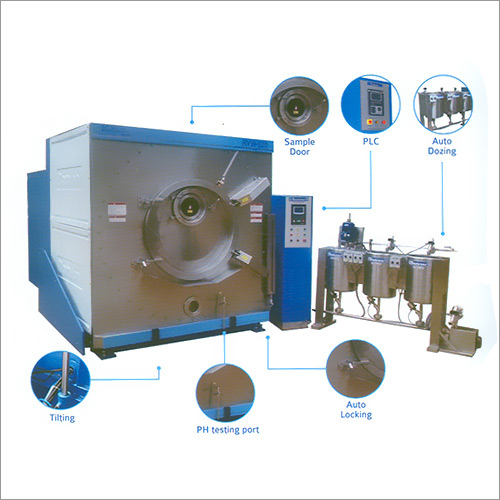 Vertostar Series Washing
Product Description
Vertostar Series Washing (64)
Descriptions
Versatile designs for all type of process / effects: The inner drum and beaters specially designed for all types of process like Denim washing, stone washing and Dyeing unlike other European machines which are made for a specific application.
Fully programmable control panel can store up to 100 programes and can handle all types of wash processes and has a user friendly operation.
Auto timer, Auto water level control, fully indigenous rugged design. Heavy duty steel drum, forged back shaft assemble. Drive through gear box to ensure desired rotation and easy maintenance supported by trained service team and other automatic features.
The machine is hydraulically operated for lifting 8 unloading using a hydro pack. Insulation of outer drum: The drum will be insulated with 16mm thick high density polyurethane sheet to ensure minimum heat loss during the dyeing process & maintain constant temperature for better quality & consistency.
Technical Specifications:

| | | | | | | | | | | | | | | |
| --- | --- | --- | --- | --- | --- | --- | --- | --- | --- | --- | --- | --- | --- | --- |
| Model | Capacity | Basket Volume | Basket Dept | Basket Diameter | Door Opening | Motor | Motor | Steam Inlet | Water Inlet | Drain Outlet | Air Pressure | Dimension (WxDxH) | Hydraulic Motor | Approx Weight |
| | (kg) | (ltrs) | (mm) | (mm) | (mm) | (hp) | (kw) | (inch) | (inch) | (mm) | (Bar) | (mm) | (hp) | (kgs) |
| RVW(V) 20 | 20 | 220 | 410 | 800 | 400 | 2 | 1.5 | 1 | 1 | 50 | 6 to 8 | 1485x1470x1625 | --- | 520 |
| RVW(V) 35 | 35 | 408 | 520 | 1000 | 675 | 3 | 2.25 | 1 | 1 | 50 | 6 to 8 | 1635x1620x1825 | --- | 630 |
| RVW(V) 52 | 50 | 565 | 720 | 1000 | 675 | 5 | 3.75 | 1 | 1 | 75 | 6 to 8 | 1635x1820x1825 | --- | 850 |
| RVW(V)100 | 100 | 993 | 850 | 1220 | 675 | 7.5 | 5.625 | 1 | 1.5 | 75 | 6 to 8 | 1935x2155x1900 | --- | 1100 |
| RVW(V)200 | 200 | 2120 | 1200 | 1500 | 790 | 15 | 11.25 | 1.5 | 2X2 nos | 150 | 6 to 8 | 1820x2550x2380 | 1.5 | 3000 |
| RVW(V)430 | 400 | 3690 | 1450 | 1800 | 1015 | 25 | 18.75 | 1.5 | 2X2 nos | 150x2 nos | 6 to 8 | 2220x3300x2650 | 2 | 6500 |
| RVW(V)520 | 500 | 4905 | 1730 | 1900 | 1015 | 30 | 22.5 | 1.5 | 2X2 nos | 150x2 nos | 6 to 8 | 2220x3550x2750 | 2 | 7500 |
Contact Us
118/2, Doddakannenahalli Village, Varthur Hobli, Sarjapur Road, Opp. Karnataka Granite Showroom, Bengaluru, Karnataka, 560035, India
Phone :+918045802917