Vertostar Machine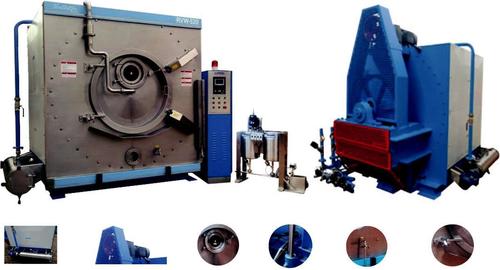 Vertostar Machine
Product Description
New Generation Vertostar (Series 7.7)
Saving Energy, Water and Space!
Ramsons vertostar series 7.7 has been designed and built with a vision of operational efficiency and success of the laundry. These machines are been working smoothly all day satisfying intense requirements of the modern fashion industry. A well thought out robust design and use of best input materials ensure longevity and trouble free operation. Customization of the machine to suit specific customer requirements and excellent after sales technical support makes Ramsons a pioneer in the laundry industry. With continuous innovations, we offer the latest to minimize the water requirement and reduce the effluent for a cleaner world.
Special Features for Vertostar Machines
Variable speed inverter drive with 6-40rpm for Washing and 80-100rpm for PRE EXTRACTION. The garments while unloading will not have much water, hence easier to handle and also the washing area will be dry and clean.

This machine has a microprocessor based programmer to control different cycles of the dyeing programme like timing, temperature, dosing etc., it can store up to 99 different programs which can have 100 steps in each. Also the control Panel has manual over ride wherein it can even work on manual mode. The control panel can also be provided with an air conditioner for cooling as an option for places with high ambient temperatures.
The programmer has USB port where the programs can be copied to other machines and also they can be stored in PC to be used when required.
This machine has 2nos of pneumatically operated valves for water inlet. And an additional inlet can be provided to use fresh water, hot water or even recycled water. An additional 3 water inlet can also be provided.

Compact design with Geared motor from GERMANY. Reduced foot print, increased loading capacity, lesser power consumption due to single reduction belt drive and easy maintenance.

The drive is through a reduction pulley system with Gear box for efficient and smooth drive. The belts used are WEDGE belts of SPC section which has minimum slippage. The basket is fixed to a heavy forged flange shaft mounted on heavy duty plumber block and bearing of SKF make. The shaft material is C45 grade. The gland housing has 4 nos of viton seals in addition to Teflon gland packing.

The frame is shot blasted and painted with polyurethane coating. Sides are covered with FRP molded panels which are maintenance free and ensure long life.
This machine is provided with PH testing port and sampling port on the main door. The sample door is provided with a LED light to see the wash process.
This machine is provided with Hydraulic operated tilting for easy unloading. Also it can be provided with an optional stone separator. This can be easily mounted on the door opening and the stones are separately unloaded in to a trolley after stone wash saving time and labor.

The machine has all safety interlocks like motor overload , door limit switch to stop the drum rotation when sample port is opened, sensor to ensure the door is not opened when filled with water over door level.

This machine is supplied with German make BURKERT water flow meter to ensure exact quantity of water to be filled into the machine which is controlled by the programmer. Also the machine is fitted with a visual level indicator to check the water liquor level during the process.

Optional features for Series 7.7




De-Stoning Attachment:




The Vertostar series now comes with an optional de-stoning attachment. This is an SS precision fabricated mesh that is easily fitted on and removed from the main door at the end of the wash cycle.

With this attachment, the pumice stones can be automatically removed into a trolley, saving precious man hours.




JET Spray Mechanism:




The Filter unit is connected with a high pressure pump to circulate the water inside the drum. The pump suction connected between fixed & rotating drum of the machine takes out and re-utilizes the idle water by dropping it back from the front door with a Special TRI PLANAR NOZZLE Jet Spray Attachment, reducing the water requirement inside the drum.The discharge of the the pump is connected with the filtration unit which make sure to filter the fluff and heavy indigo particles to go along with water.

Additional Optional features for Dyeing :




Controlled Heating & Cooling:







The Hardware, Indirect Heating coil, is connected with our software to operate in a Auto mode using special PLC and Auto Controlling Valves that control the temperature of water with gradient of 5 deg/min & Cooling up to 3 deg/min. It has complete 5 Valve Automatic System that works with the help of Steam Inlet, Steam Outlet, Water Inlet, Water Outlet & Drain




Controlled Heating & Cooling




Color Kitchen:







The twoTank Dosing Systems comprise of water inlets & pneumatically operate valves along with SS pump for dosing & circulation of Dyes for better mixing. Dosing can be programmed as per the requirement. Precise levelOMRON sensors controlled by PLC help in accurate & timely dosing of dyes or chemicals. This Special sensor works on Air pressure. Dosing can be programmed like single dose or injection system based on requirement.










New Designed PLC




for Washing & Dyeing This machine has a Microprocessor based programmer to control different cycles of the dyeing programme like timing, temperature, dosing etc. The PLC can store up to 80 programs with 15 steps in each program.













Capacity




Basket




Door

Motor-Sew Top

Steam

Water

Drain

Air Pres-

Dimensions

Hy-

Ap-










Opening

Mounted

Inlet

Inlet

Outlet

sure

(Wxdxh)

draulic

prox.

Model













Diameter






















Motor

Wt














































(kgs)

Volume

Depth

Diameter

(mm)

(hp)

(kw)

(inch)

(inch)

(mm)

(bar)

(mm)

(hp)

(kgs)
















(ltr)

(mm)

(mm)


















































































RVW(V) 20

20

220

410

800

455

2

1.5

1

1

75

6 To 8

1570X1200x1570

450














































RVW(V) 35

35

408

520

1000

620

3

2.25

1

1.5

75

6 To 8

1790X1330x1790

510














































RVW(V) 52

50

565

720

1000

620

3

2.25

1

1.5

75

6 To 8

1790X1530x1790

630














































RVW (V)75

75

768

740

1150

675

7.5

5.625

1

1.5

75

6 To 8

1950X1735x1950

850














































RVW(V) 100

100

993

850

1220

675

7.5

5.625

1

2

75

6 To 8

2000X1865x2050

950














































RVW(V) 200

200

2120

1200

1500

800

15

11.25

1.5

2X2 Nos

150

6 To 8

2120X2400x2700

1.5

3000














































RVW(V) 430

400

3690

1450

1800

1050

25

18.75

1.5

2X2 Nos

150X2 Nos

6 To 8

2220X2910x2900

2

6500














































RVW(V) 520

500

4905

1730

1900

1015

30

22.5

1.5

2X2 Nos

150X2 Nos

6 To 8

2220X3200x3000

2

7500
















































Contact Us
118/2, Doddakannenahalli Village, Varthur Hobli, Sarjapur Road, Opp. Karnataka Granite Showroom, Bengaluru, Karnataka, 560035, India
Phone :08045802917