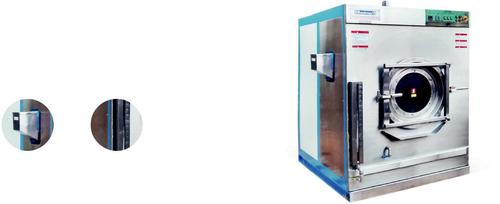 Vertical washing Machine
Product Description
This Semi-automatic Washing Machine is an easily operable machine with door limit switch and water level indication. It also offers world-class functionality and efficient performance.
Description
The machines are used in the processing of linen and garments with water as the medium of the wash and have total electrical control panel easily accessible with a door limit switch for operator safety.

Made of tested stainless steel of AISI Grade 304 on front cover and wetted parts.
The machine comes with a water level indicator and a stainless steel chemical hopper.
Heating of the wash load is via direct steam injection or via stainless steel electrical heating elements.
The chemicals enter the wash cycle in the inner basket via a stainless steel chemical box fitted on the side of the machine.
The water inlet, drain and steam (optional) connections can optionally be converted to a complete automatic set up.



Capacity




Basket




Door Opening




Motor

Steam

Water

Drain

Heater

Dimension

Approx










Diameter




Inlet

Outlet

(W x D x H)

Weight































Model














































Volume

Dept

Diameter






































































(Kgs)










(mm)

(hp)




(kw)

(inch)

(inch)

(inch)

(kw)

(mm)

(Kgs)




(ltrs)

(mm)

(mm)





















































































WRVW 20

20

220

410

800

350

2




1.5

1

2

2

12

1150 x 1275 x 1625

520














































RVW 35

35

408

520

1000

450

3




2.25

1

2

2

18

1350 x 1425 x 1825

630














































RVW 50

50

565

720

1000

450

5




3.75

1

2

2

18

1635 x 1625 x 1825

850














































RVW 75

75

768

740

1150

675

7.5




5.625

1

2

3

24

1500 x 1800 x 1900

980














































RVW 100

100

993

850

1220

675

7.5




5.625

1

2

3

36

1600 x 2000 x 1900

1100














































RVW 200

200

2120

1200

1500

790

15




11.25

1.5

2

4

72

2100 x 2320 x 2105

2000
Contact Us
118/2, Doddakannenahalli Village, Varthur Hobli, Sarjapur Road, Opp. Karnataka Granite Showroom, Bengaluru, Karnataka, 560035, India
Phone :+918045802917