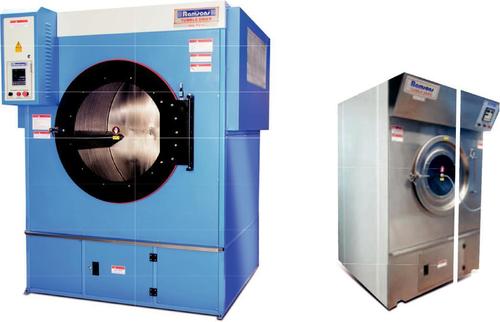 Tumble Driers
Product Description
Designed for Ease:
The special radiator/heat exchanger design and efficient blower system makes the drying time of this Ramsons dryer the best in its class.
The stainless steel inner basket is programmable on time for forward and reverse rotations to prevent garments from intangling and a large glass door is provided for ease of loading and unloading linen/garments.
Programmed for safety:
Programmable micro processor control system comes standard with this machine, also an optional cooling down damper.
Emergency stop buttons and a safety limit switch is pre installed to ensure safety of the operator and all dryers are provided with a self cleaning lint mesh prior to hot air exit.
IR Sensor (Optional):
IR sensor is the device used to measure temperature of the garments dried in a drying device.
Tumble Drier with spray nozzle: The Spray Mechanism is used to inject a mist of Softener/ Resin/ Chemical into the basket. This is achieved by specialised nozzles and high pressure pumps.


















Door

Drive

Exhaust

Steam

Steam




Heater




Approx.







Capacity




Basket




Opening

Air Outlet

Dimensions (Wxdxh)













Motor

Motor

Inlet

Outlet

(Optional)

weight

SL.

Model













Diameter











































NO














































Volume

Diameter

Depth


































(kg)

(mm)

(hp)

(hp)

(inch)

(inch)

(mm)

(Kw)

(mm)

(kgs)






















(ltr)

(mm)

(mm)


















































































1

RTD 10

10

210

700

550

500

0.5

0.75

0.5

0.5

110 x 110

9

830 x 1120 x 1380

280














































2

RTD 15

15

269

700

700

500

0.5

0.75

0.5

0.5

110 x 110

12

830 x 1270 x 1490

385














































4

RTD 30

30

613

970

830

750

1

1

1

1

150 x 200

24

1050 x 1320 x 1870

550














































5

RTD 60

60

1227

1220

1050

750

2

2

1

1

200 x 200

27

1360 x 1990 x 2135

800














































6

RTD 75

75

1495

1380

1000

750

3

2

1

1

210 x 250

27

1560 x 2010 x 2330

1100














































7

RTD 120

120

2215

1580

1130

990

3

2

1.25

1

210 x 250

27 x 2nos

1980 x 2070 x 2300

1200














































8

RTD 150

150

3019

1775

1220

990

5

2 X 2nos

1.25

1

250 x 500

36 x 2 nos

2190 x 2210 x 2550

1600














































9

RTD 200

200

4220

2100

1220

1190

7.5

3 X 2 nos

1.5

1

255 x 510

NA

2750 x 2260 x 3030

2800













































Contact Us
118/2, Doddakannenahalli Village, Varthur Hobli, Sarjapur Road, Opp. Karnataka Granite Showroom, Bengaluru, Karnataka, 560035, India
Phone :+918045802917