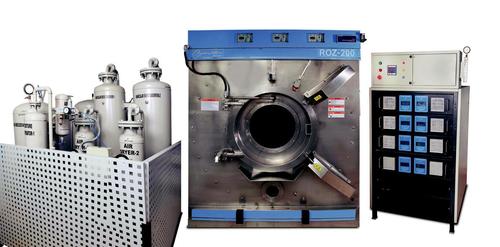 ozonator machine
Product Description
Description
This machine is all stainless steel with the inner drum diameter of 1500 mm and length of 1200 mm which gives an approx. value of 2120 ltrs.
This machine has a perforated inner Basket and also full stainless steel outer drum with a large front opening with air tight door. The air tight door has a view glass om which a stainless stell nozzle is fitted for Ozone inlet
The Basket is mounted on self aligning bearings and the drive through reduction pulley system.

The machine has fully Stainless Steel pneumatically operated fresh air inlet valve, exhaust valve, stainless steel ducting, steam radiator and exhaust blower.
The opening and closing of the valve, blower is controlled by automatic timers.
This machine is also provided with a Ozone destructor to ensure that Ozone is not released into the atmosphere.
This machine also has a provision for fixing spray nozzle with dozing pump as an optional feature.
Vent Ozone Destructor
It is expected that there will be some ozone present in the vent gas from the processing drum which need to be destructed before released to the atmosphere. The maximum allowable limit in the atmosphere is 100ppb. Hence a vent ozone destructor is proposed which works with thermal type. A set of electrical heaters are used to maintain the required temperature of 150-300degC in a chamber where the vent gas is passed through for destruction. The ozone is destructed fast at higher temperature. The required temperature can be set with the thermostat provided in the destructor. This ozone destructor will be connected in the vent line of the oxidation tank through an axial blower.
Ozone Analyser (Optional)
It is proposed to incorporate ozone concentration analyser in the system which will measure the concentration of ozone gas from the ozone generator or the concentration of ozone in the outlet of the drum before the destructor. The ozone concentration will be measured and displayed in gm/Nm3 unit. This is an on line measuring device and uses UV based sensor.
Ozone Leak Detector (Optional)
It is proposed to install one ambient ozone sensor in the ozone plant room to monitor the leakage of ozone if any. This sensor will measure the ozone present in the ambient air and when the ozone level reaches more than the safe level say 100ppb, it will give alarm and the ozone generator will be shut down. . The following are the specifications of the ozone leak detector monitor.
| | | | | | | | | | | | |
| --- | --- | --- | --- | --- | --- | --- | --- | --- | --- | --- | --- |
| Model | Capacity | Basket Volume | Basket Depth | Drum Dia | Door Opening | Motor | Steam Inlet | Water Inlet | Drain Outlet | Overall | Net Weight |
| | | | | meter | | | | Size | | Dimension | |
| | | | | | | | | | | | |
| | kgs | ltrs | mm | mm | mm | hp | inch | nos | inch | (WxDxH) mm | kg |
| | | | | | | | | | | | |
| ROZ 100 | 100 | 993 | 850 | 1220 | 675 | 7.5 | 1 | 2 | 3 | 1600 x 2000 x 1900 | 1100 |
| | | | | | | | | | | | |
| ROZ 200 | 200 | 2120 | 1200 | 1500 | 790 | 15 | 1.5 | 2 x 2 | 5 | 1820 x 2550 x 2380 | 3000 |
| | | | | | | | | | | | |
| ROZ 400 | 400 | 3690 | 1450 | 1800 | 1015 | 25 | 1.5 | 2 x 2 | 5 x 2nos | 2220 x 3300 x 2650 | 6500 |
| | | | | | | | | | | | |
Contact Us
118/2, Doddakannenahalli Village, Varthur Hobli, Sarjapur Road, Opp. Karnataka Granite Showroom, Bengaluru, Karnataka, 560035, India
Phone :+918045802917