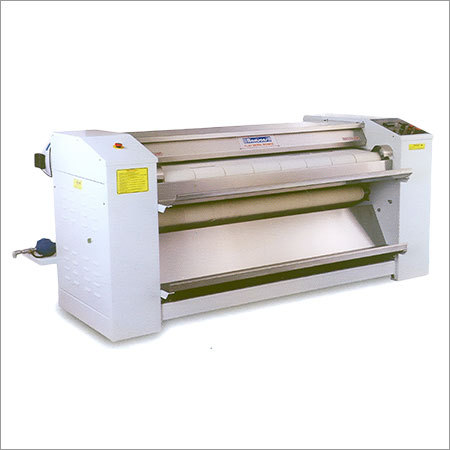 Flat Work Ironers Machine
Product Description
Flat Work Ironers Machine
Roll Heated
This I-series ironer is used to iron and finish all flat articles such as bedsheets, pillow covers, tablecloth, napkins etc. directly after the extraction process to deliver a quality finish. A variable speed drive for different types of fabrics and reversing of the cylinder are standard.
International Quality
The feeding and heating belts are completely imported and are of imported quality. These belts do not absorb moisture and prevent the transfer of any marks to the articles being processed. A powerful blower ensure maximum removal of the moist air created within the machine. The electrical panel is equipped with a digital temperature indicator and digital speed indicator. A hand safety guard through the length of the cylinder and emergency stop buttons are provided.
Technical Specifications:

| | | | | | | | | | | | |
| --- | --- | --- | --- | --- | --- | --- | --- | --- | --- | --- | --- |
| Model | Roll (mm) | Heating | Motor (hp) | Steam Inlet (inch) | Condensate Outlet (inch) | Ironing Speed (mtr/min) | Air Outlet (inch) | Electric Heating (kw) | Steam Consumption (kgs/hr) | Dimensions (WxDxH) | Net Weight (kgs) |
| RFWI-0416S | 400x1600 | Steam | 1 | 1/2 | 1/2 | 1-5 | 6 | - | 35 | 2150x1200x1010 | 1000 |
| RFWI-0416E | 400x1600 | Electrical | 1 | - | - | 1-5 | 6 | 24 | - | 2150x1200x1010 | 1000 |
| RFWI-0420S | 400x2000 | Steam | 1 | 1/2 | 1/2 | 1-5 | 6 | - | 40 | 2550x1200x1010 | 1200 |
| RFWI-0420E | 400x2000 | Electrical | 1 | - | - | 1-5 | 6 | 24 | - | 2550x1200x1010 | 1200 |
| RFWI-0430S | 400x3000 | Steam | 1 | 1/2 | 1/2 | 1-5 | 8 | - | 45 | 3550x1200x1010 | 1800 |
| RFWI-0430E | 400x3000 | Electrical | 1 | - | - | 1-5 | 8 | 24 | - | 3550x1200x1010 | 1800 |
| RFWI-0620S | 600x2000 | Steam | 1.5 | 1 | 1 | 1-8 | 8 | - | 45 | 2880x1390x1210 | 1800 |
| RFWI-0620E | 600x2000 | Electrical | 1.5 | - | - | 1-8 | 8 | 36 | - | 2880x1390x1210 | 1800 |
| RFWI-0630S | 600x3000 | Steam | 2 | 1 | 1 | 1-8 | 8 | - | 50 | 4090x1630x1250 | 2500 |
| RFWI-0830S | 800x3000 | Steam | 3 | 1 | 1 | 1-10 | 8 | - | 80 | 4100x1900x1380 | 3000 |
| RFWI-0833S | 800x3300(2R) | Steam | 5 | 1 1/2 | 1 | 2-20 | 8x2 | - | 160 | 4100x3800x1380 | 4900 |
Contact Us
118/2, Doddakannenahalli Village, Varthur Hobli, Sarjapur Road, Opp. Karnataka Granite Showroom, Bengaluru, Karnataka, 560035, India
Phone :+918045802917