Electric Steam Generator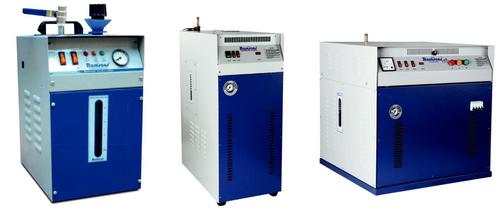 Electric Steam Generator
Product Description
Electric Steam Generators
Ramsons range of fully-automatic self-contained generators utilizing minimum power and space, are extremely safe portable and supply the right quantity of steam at the right places.
They are available in a wide array of models, capacities & options and hence can be used for specific applications.
These machines are compact, reliable and easy to use.
Seven safety mechanisms with an alarm system makes this range of steam generators totally safe.
These generators are equipped with portable softening units, feedwater tanks and high pressure water pump.
Detachable stainless steel heater elements are protected by thermostats and level controller.
Easy availability of spares and comprehensive service.
| | | | | | | | | | | | |
| --- | --- | --- | --- | --- | --- | --- | --- | --- | --- | --- | --- |
| Model | Heater | Steam | Operating | Steam | Water | Steam | Suitable for | Water | Water | Dimension | Approx |
| | | | | | | | | | | | |
| | Capacity | Output | Pressure | Connections | Inlet | Outlet | number of irons | Capacity | Pump | W x D x H | Weight |
| | | | | | | | | | | | |
| | (kw) | (kg/hr) | (Bar) | (Nos) | (inch) | (inch) | (Nos) | (ltrs) | (hp) | (mm) | (kgs) |
| | | | | | | | | | | | |
| MR 02 (jumbo) | 2 | 3 | 3 | 1 | 1/2 | 1/4 | 1 | 9 | - | 390 x 390 x 550 | 22 |
| | | | | | | | | | | | |
| MR 03 (manual) | 3 | 4 | 3 | 1 | 1/2 | 1/4 | 1 | 9 | - | 390 x 390 x 550 | 22 |
| | | | | | | | | | | | |
| MR 06 (2TB) | 6 | 10 | 3.5 | 1 | 1/2 | 1/2 | 2 | - | 1 | 356 x 610 x 660 | 56 |
| | | | | | | | | | | | |
| MR 12 (4TB) | 12 | 18 | 3.5 | 1 | 1/2 | 1/2 | 4 | - | 1 | 356 x 737 x 838 | 82 |
| | | | | | | | | | | | |
| MR 18 (6TB) | 18 | 24 | 3.5 | 1 | 1/2 | 1/2 | 6 | - | 1 | 406 x 737 x 838 | 90 |
| | | | | | | | | | | | |
| MR 27 (10-12TB) | 27 | 36 | 3.5 | - | 1/2 | 1/2 | 10-12 | - | 1 | 711 x 711 x 737 | 130 |
| | | | | | | | | | | | |
Contact Us
118/2, Doddakannenahalli Village, Varthur Hobli, Sarjapur Road, Opp. Karnataka Granite Showroom, Bengaluru, Karnataka, 560035, India
Phone :+918045802917