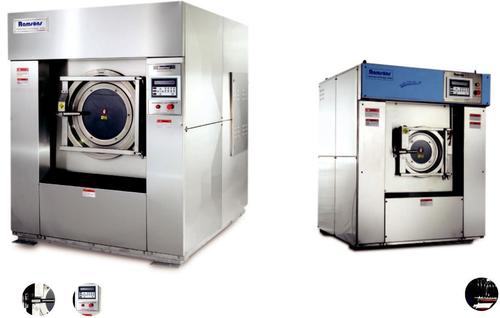 Washer Extractors
Product Description
Description
Heavy Duty:
An extremely versatile machine (used in hotels, hospitals, dry cleaners and commercial laun). Its high torque invertors and heavy duty motors ensure high efficiency & low power consumption.
Shorter Operation Cycle:
To fill & discharge water within minimal time with smooth operation, with soft start & stop that ensures least wear & tear.
Fully Progammable:
It can store 24 Wash Programs with the LCD showing complete message as opposed to codes. It also has a pause and continue feature useful when there is a power loss.


















Door







Final




Water

Heating

Optional

Drain

Steam

Air

Dimensions

Net







Capacity




Basket




Opening

Motor

G Force

Steam

Heating

Sl.










Extraction

Inlet

Outlet

Pressure

Pressure

(W x D x H)

Weight

Model













Diameter
















Inlet

Electrical
















No


























































Volume

Diameter

Depth














































(kg)

(mm)

hp

kw

(rpm)

(G)

(mm)

(mm)

(kw)

(mm)

(bar)

(bar)

(mm)

(kgs)






















(ltr)

(mm)

(mm)










































































































1

RVWE 15

15

146

630

470

355

2

1.5

1050

352

25

15

9

50

4-5

NIL

965 x 1185 x 1460

850


























































2

RVWE 30

30

305

840

550

400

5

3.7

850

339

25

15

18

75

4-5

5

1280 x 1350 x 1750

1200


























































3

RVWE 45

45

450

970

605

525

7.5

5.5

800

347

25

15

27

75

4-5

5

1350 x 1450 x 1850

1700


























































4

RVWE 60

60

620

1020

760

670

10

7.5

750

325

40

15

27

100

4-5

5

1350 x 1500 x 2050

2300


























































5

RVWE 110

110

1100

1325

810

670

20

15

665

327

50

25




100

4-5

5

1880 x 2350 x 2530

2850

























































Contact Us
118/2, Doddakannenahalli Village, Varthur Hobli, Sarjapur Road, Opp. Karnataka Granite Showroom, Bengaluru, Karnataka, 560035, India
Phone :+918045802917