Dyeing Machine / Sample Washing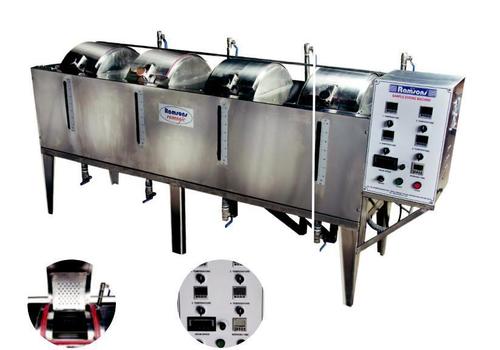 Dyeing Machine / Sample Washing
Product Description
Sample Washing/Dyeing Machine: Ramagic is a complete compact of Stainless steel (special 316 grade steel), this low power machine moves of all the wahing/dyeing are on single shaft system and is the perfect receipe with low liquor ratio which makes it a must for all the modern day apparel sample rooms.
Description
Specially designed for sample precise dyeing.
It makes it easy to convert sample recipe into bulk due to less liquor ratio.

Single drive mechanism for all 4 Drums.
Electrical heating has been provided to maintain liquor ratio during process.
Variable drive speed for different process.
Power Transmission is through gear box and reduction pulley.
























Individual Dyeing

Water Level


































Pocket




Indicator


























































Sl

Model

Number

Inner Drum

Drum

Door Opening

Outer Drum

Motor

Speed Of Drum




Water

Water

Drain

Dimention

Approx.

Electric

No.

Of Drums

Dimension

Volume

Dimensions

Dimensions

Power

Min-Max




Connection

Pressure

Outlet

(LxWxH)

Weight

Connection





























































no.

(mm)

(ltr)

(mm)

(mm)

(kw)

(rpm)




(inch)

(kg/cm)

(inch)

(inch)

(kg)




















































1

RMS-1D

1

425 x 235

33

150 x 230

465 x 280

0.25

10-30




1/2

3

1

740 x 600 x 1030

120

3PH, 415V, 50HZ

















































2

RMS-2D

2

425 x 235

33 x 2

150 x 230

465 x 280

0.75

10-30




1/2 x 2

3

11/4

1325 x 600 x 1030

210

3PH, 415V, 50HZ

















































3

RMS-4D

4

425 x 235

33 x 4

150 x 230

465 x 280

0.75

10-30




1/2 x 4

3

11/4

2300 x 885 x 1030

300

3PH, 415V, 50HZ
















































Contact Us
118/2, Doddakannenahalli Village, Varthur Hobli, Sarjapur Road, Opp. Karnataka Granite Showroom, Bengaluru, Karnataka, 560035, India
Phone :+918045802917